Taridium Wiki
From Taridium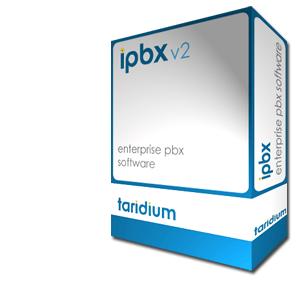 ipbx Enterprise PBX Software

About Taridium
Taridium is a leader in open standards enterprise and provider VoIP solutions. Taridium's offering ranges from managed VoIP services for small and medium sized businesses through to high capacity telephony solutions for large enterprises and service providers. Taridium's products and services have been designed to harness the power of open standards while reducing both ownership and telecommunication expenses.
This site was created to help you get the most out of your Taridium products. It is our goal to keep this site as up-to-date as possible.
For information about ipbx, the IP PBX Software visit us at http://pbxsoftware.net
For general information and enterprise solutions, please visit Taridium's main website at http://www.taridium.com
For support with a maintenance contract go to our support portal http://support.taridium.com

ipbx eXpress software is designed for small to medium sized installations and is available in 30,60 and 100 user editions. Offering all the key advantages of Taridium's ipbx software, ipbx eXpress configurations are fully compatible with Taridium's ipbx enterprise solution allowing for a seamless upgrade path. Click here for a free trial.

Taridium's flagship enterprise IP PBX solution is a fully featured enterprise class VoIP PBX solution that supports from 15 to 15,000 users. In addition to all the usual features you would expect from a next generation phone system, ipbx also includes a host of advanced features.
Select Features
Web based Operator Console
Roaming Extensions
Personal Conference Rooms
Favorite based Follow Me
Individual Softphone Support
XML Phone Applications
One Touch Call Recording
Unified Voicemail and Messaging
Open API and full CRM integration
Multi Site Support
Mobile Client Interfaces
For the latest news about Taridium and ipbx, follow us on Twitter